Thursday, May 03, 2007
le sigh
hard day

Tuesday, May 01, 2007
blarg
Why is that when things start coming together do I feel like utter crap. I think because this is real life now and I'm the one responsible.

I've decided that I'm not done with this thing. So here I go.

So much has happened in the last year that it is so hard to hide behind vaguely structured sentences, where the nameless "you" is always the subject.

The idols are singing Bon Jovi tonight. Somehow that makes things a little bit better.

Some time the realization hits me and I'm shocked everytime.

A week and half and I'm NY.

A week and a half.

Friday, March 16, 2007
Book club
You read the books first. I watched the movies first. I don't know what I think of the ending of the book...of the series...without talking to you about it. It is so right and it is so wrong all in one swoop. The minute I finished the book the first thing I wanted to do is call you and scream in the phone.

We never really talked about books. I think it would have been nice.

I miss you

Monday, February 12, 2007
well that all went out the window
not but half an hour after I wrote the last post about how I was going to spend the day, Jon walked in the door (well actually he was carried in the door). He had slipped and fallen playing footbal and the boys were helping him back home.

"There was a guy there who worked for Health Services and he looked at my leg. He thinks it is a high ankle sprain"

The boys left and I went to take off Jon's shoe. High ankle sprian my ass! the bone around the ankle was bulgding out. It was the sizer of my fist at least.

"we are going to the emergency room now".

So long story short, after nin hours in the emergency room, three x-rays, we now know that Jon has broken his leg is two spots. He has a fun white smooth cast on right now, and we are waiting to hear the word if he is going to have to have surgery to put a plate/screw in his ankle.

He will be in a cast for a minimum of 4 weeks.

Fun fun

Sunday, February 11, 2007
I'm not ready to be done with this
Four more weeks and then I am done. No more teacher voice and teacher stare, at least for a little while. Am I ready to use that voice forever more? nope. I'm still waiting for the moment where it makes sense to why I am doing this. But I can't be in school forever, figuring things out until all the money runs out. Just have to remember that I am young and smart and it will turn out thousands of times.

In the mean time plans are happening. Interviews, and saving money, cars and trips. The tickets to New York are booked and California will be coming around very soon. I'll have to buy a bathing suit.

I need to start going back to the gym.

Today I will write 3 lesson plans and I will clean the apartment. I will make myself a real supper even though I am home alone. I'll call my sister and have a chat. I'll relish how I somehow avoid a hangover. I'll try and figure out what I want to do with my hair. I'll prowl on facebook waiting for the pictures of the evening to surface so I can admire how beautiful all my friends are (and hate how my cheekbones are just a little bit too pronounced. I'll wait for invitations and lurk and stalk.

Last night was fun. It was nice to see people and have some eye contact for once.

Wednesday, December 06, 2006
I wish we still wrote letters.
Nothing makes you feel the way you do when you have the paper inbetween your fingers and familar scrawlings dancing along the page.

Monday, December 04, 2006
I hate that I lost those earings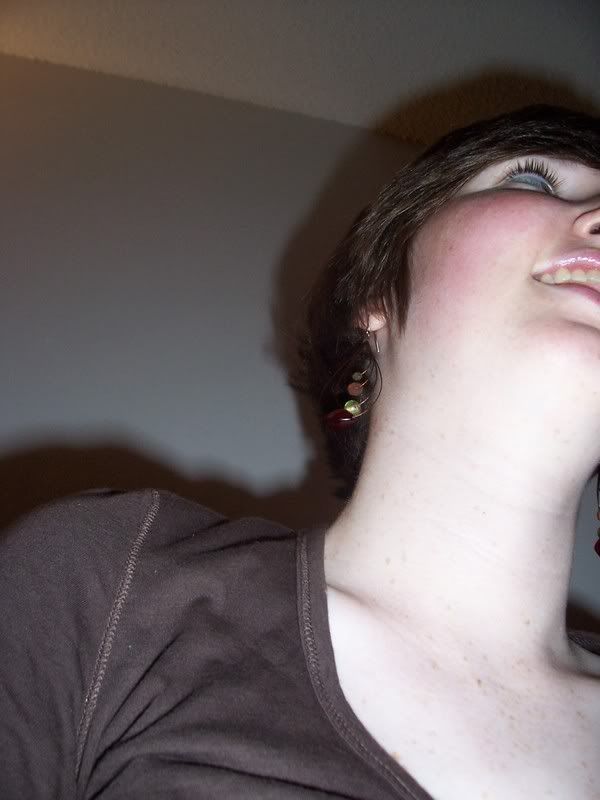 I don't care
Things get to a certain point and you stop caring.

The bathroom needs to be cleaned....I don't care.
I only have one week to do like a terms worth of school work....I don't care.
I have a huge assignment that I haven't even started due tomorrow....I don't care.

My face is so uncomfortable. Everytime I swallow, it feels as if someone pinches my face as hard as they can. I just want my normal face back.

I have to decide wether I am going to all the functions I am invited in the next week. I could do homework instead...the question is though...will I do the home work.

My sister is wonderful and so talented. That's my sister! I'm looking forward to seeing her in the next few weeks. Want to go see "The Holiday"? Jack Black as romantic lead!

I'm trying.